UR COURSES
Applied Genomics (BIO 257,BIO457)
This course is designed to introduce students to applications of genomics to problems in genetics, evolution and human health and demography. Students will receive hands-on training in genomic methods, where they will learn to apply next generation sequencing (NGS) and other high throughput assays to current biological problems. Students will read and discuss primary literature, and come up with a hypothesis about an unanswered question in Biology that they will then test as a group. Applied Genomics is part of the core curriculum for the new Computational Biology Major at UR.
Last offered fall 2019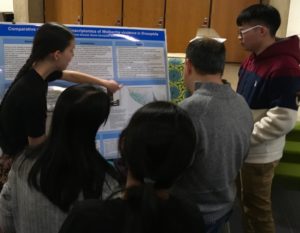 Advanced topics in Ecology and Evolutionary Biology (BIO 474)
Topic: Genetic Conflict and Selfish Genetic elements.  Taught by Drs. Eickbush, Werren and Larracuente, this course is a whirlwind introduction to selfish genetic elements. Students will discuss primary literature, build skills in computer programming, data mining and genomic analysis. All new EEB graduate students are required to take this course, but interested undergraduates are encouraged to e-mail alarracu@bio.rochester.edu to discuss the possibility of enrolling.
Offered Spring 2019
Join us as we discuss interesting papers in evolutionary biology. We meet on Tuesdays at 11:05am in HH316. Anyone is welcome (and all are encouraged) to attend!
Offered every semester
OUTREACH
Upward Bound
The Larracuente Lab runs a workshop on insect mating for local high school students as part of the Upward Bound program. Students learn about courtship in different insect species like fruit flies, parasitic wasps and fireflies.
Rochester Science Café
The Science Café provides a forum for interactive discussions on current topics with scientists from the University of Rochester and RIT.  The group meets once a month on Tuesdays at 7pm in the Community Room of Barnes and Noble in Pittsford Plaza. Anyone is welcome to attend!
Amanda's café was a presentation on the "Mysteries of the Genome" (11/24/15).