PI: Amanda Larracuente
Graduate Students: Danielle Khost, Ching-Ho Chang, Xiaolu Wei
Research associates and technicians: Danna Eickbush, Shaun Jones, Stephanie Hao
Undergraduates: Arif Kodza, Danielle Pascua, Isaac Wong, Taylar Mouton, Iain Speece
Former lab members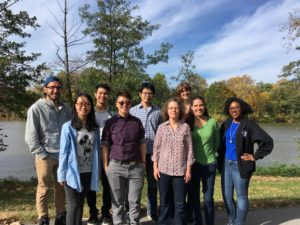 Lab members:

Amanda Larracuente, Ph.D. (Principal Investigator)
e-mail: alarracu@bio.rochester.edu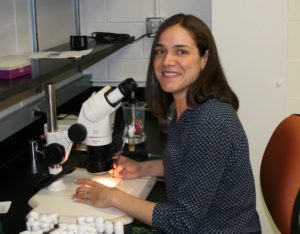 Amanda earned her Ph.D. studying Drosophila genomics and sex chromosome evolution in Dr. Andrew Clark's lab at Cornell University. During her postdoctoral training, she focused on the evolution of selfish DNA including the Segregation Distorter system of Drosophila melanogaster.
Selected recent publications. Click here for a full list of Amanda's publications or see her NCBI bibliography.
Graduate students
Danielle (Dani) Khost (Ph.D. candidate)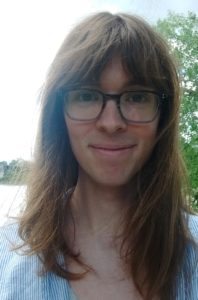 e-mail: dkhost@ur.rochester.edu
Dani is an E2G2 student working on the evolution and functional genomics of satellite DNA in Drosophila species. She is using deep real time single molecule sequencing from Pacific Biosciences to study the structural organization of satellite DNA loci in Drosophila genomes.
Publications:
Ching-Ho Chang (Ph.D. candidate)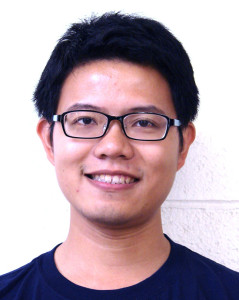 Ching-Ho is an E2G2 student working on Segregation Distorter in Drosophila melanogaster and Y chromosome evolution in  Drosophila. Before coming to Rochester, Ching-Ho worked with Dr. Chau-Ti Ting  at National Taiwan University on neo-sex chromosome evolution in Drosophila albomicans. Ching-Ho is a recipient of the Ernst Caspari Fellowship.
Selected publications:
Xiaolu Wei (graduate student)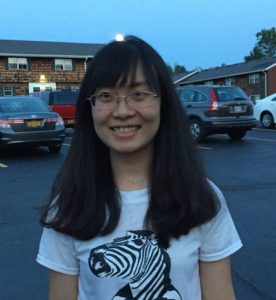 Xiaolu is a Biomedical Genetics student studying how satellite DNA is regulated in the germline using functional genomics and cytogenetics.
Research associates and technicians

Danna Eickbush, Ph.D. (Research associate)

e-mail: danna.eickbush@rochester.edu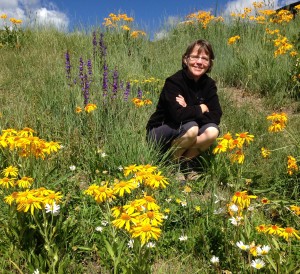 Danna Eickbush attended the University of Arizona where she was introduced to the wonders of molecular biology and immediately transferred to the newly formed Department of Cellular and Development Biology. She then joined the Ph.D. program in Cellular and Development Biology at Harvard University, characterizing the molecular structure and transcriptional patterns of the 71C-E region of Drosophila melanogaster while in the lab of Dr. Peter Cherbas. After moving to upstate New York, she did a postdoc with Dr. Jack Werren studying the selfish B-chromosome Paternal Sex Ratio (PSR) in the wasp Nasonia vitripennis. For the last 25 years, she has worked as a research associate with Dr. Tom Eickbush at the University of Rochester. The long tenure with her husband allowed Danna to study many aspects of the life cycle of the retrotransposable element R2, including its regulation and transcription. Danna works on the regulation of satellite DNA expression in Drosophila species.
Selected recent publications. Click here to see Danna's PubMed list.
Eickbush, T.H. and Eickbush, D.G. 2015. Integration, regulation, and long-term stability of R2 retrotransposons. In Mobile DNA III. ASMscience. Editor Nancy L. Craig (in Press).
Eickbush, D.G., Burke, W.D. and Eickbush, T.H. 2013. Evolution of the R2 retrotransposon ribozyme and its self-cleavage site. PLoS One 8: e66441.
Eickbush, D.G. and Eickbush, T.H. 2012. R2 and R2/R1 hybrid non-autonomous retrotransposons derived by internal deletions of full-length elements. Mobile DNA 3: 10.
Stephanie Hao (Technician)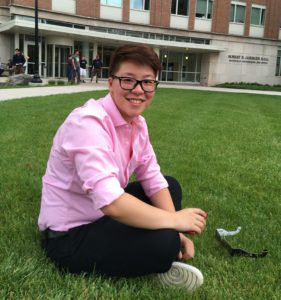 Stephanie joined the lab after graduating from the University of Rochester with a degree in cell and developmental biology. She is working on satellite DNA genetics. Stephanie is also in a masters program in bioinformatics at Johns Hopkins.
Shaun Jones (Technician)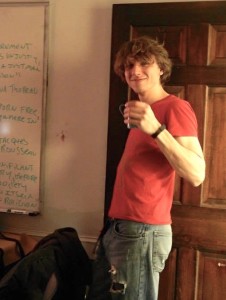 Shaun is a skilled fly wrangler who  maintains the lab's fly lines and helps the lab with various projects.
Undergraduates
Danielle Pascua (undergraduate)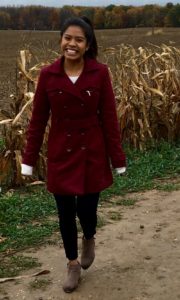 Danielle is an undergraduate technician using genetics to study Segregation Distorter.
Isaac Wong (undergraduate)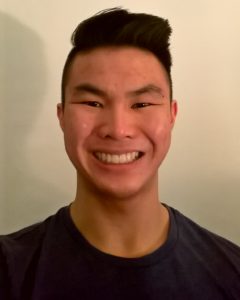 Isaac is using computational and cytogenetic methods to study repeat evolution in fireflies and Drosophila species.
Arif Kodza (undergraduate)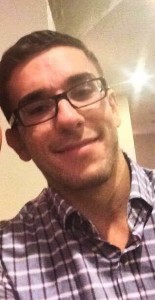 Arif is studying the population genetics of satellite DNAs in Drosophila genomes.
Taylar Mouton (undergraduate)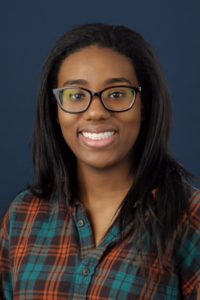 Taylar is studying the function of multi-copy Y-linked gene families in D. melanogaster and the simulans clade species.
Iain Speece (undergraduate)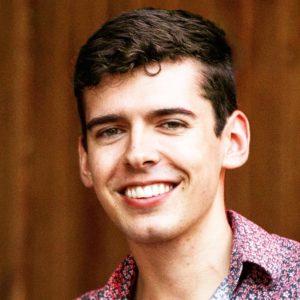 Iain is a computational biology major studying the functional genomics of satellite DNAs in D. melanogaster.
Former lab members
Undergraduates: Christian Silva (grad student UC Davis), Thanatcha (Kwan) Khunkhet, Linhe (Alex) Xu (grad student at Vanderbilt )
Rotating graduate students: Steven Messer, John Bettinger, Omid Saleh Ziabari, Nilima Walunjkar