PI: Amanda Larracuente
Graduate Students:  Matthew Lindsay, Emiliano Martí, Logan Edvalson
Postdocs:  Cécile Courret, Xiaolu Wei,
Research associates and technicians: Danna Eickbush, Nick Fuda, Natasha Kruelski
Undergraduates:  Julia Granato, Miraz Sadi,  Adya Mohapatra, Taylor Franks
Former lab members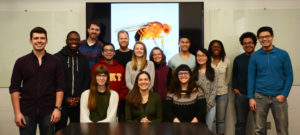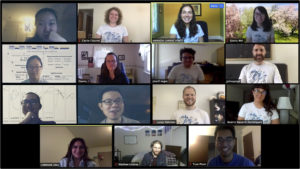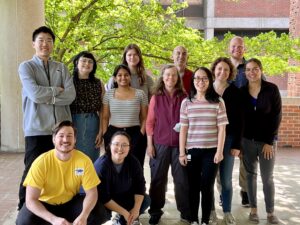 Lab members:

Amanda Larracuente, Ph.D. (PI, Associate Professor)
e-mail: alarracu@bio.rochester.edu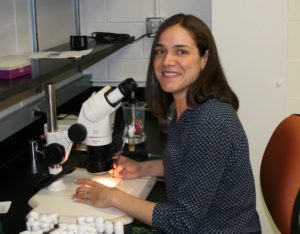 Amanda earned her Ph.D. studying Drosophila genomics and sex chromosome evolution in Dr. Andrew Clark's lab at Cornell University. During her postdoctoral training, she focused on the evolution of selfish DNA including the Segregation Distorter system of Drosophila melanogaster. Amanda was the Stephen Biggar and Elisabeth Asaro Fellow in Data Science from 2017-2020.
Other roles: Amanda is the advisor and track coordinator for the undergraduate major and minor in Computational Biology. She teaches the Applied Genomics capstone for comp bio majors. Amanda is also an active member of the Goergen Institute for Data Science where she advised majors and MS students and co-chairs the working group in Life and Biomedical Data Science.  Outside of the University, she is on the editorial boards for Molecular Biology and Evolution and GENETICS and is on the Board of Directors for the Genetics Society of America.
Selected publications from before starting the lab. Click here for a full list of Amanda's publications or see her NCBI bibliography and ORCID.
Graduate students
Matthew Lindsay (E2G2 graduate student)
e-mail: matthew.lindsay@rochester.edu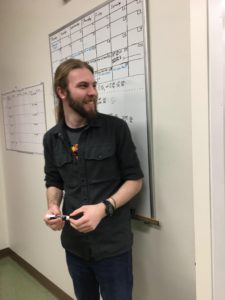 Matthew joined our lab after finishing his undergraduate work at the University of Toronto as a technician and began as an E2G2 graduate student in Fall 2020. Matthew is working on the population dynamics of Segregation Distorter and satellite DNA fitness.
Emiliano Martí (E2G2 graduate student)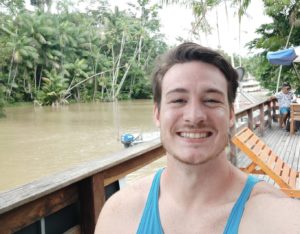 Emiliano got his masters at the Sao Paulo State University studying the evolution of repetitive DNA in Schistocerca grasshoppers. He is interested in repetitive elements and their role in genome organization and sex chromosome evolution. Emiliano joined the Larracuente lab as an E2G2 graduate student, and is studying the organization of satellite DNA in populations. He is co-advised by Dr. Daven Presgraves.
Logan Edvalson (CDM graduate student)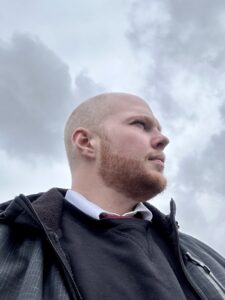 Logan completed his masters at Brigham Young University developing tools to study the evolutionary developmental genetics of reptiles. He is broadly interested in how genetic conflicts shape the evolution of the genome and how these conflicts influence chromatin architecture. Logan joined the Larracuente lab as a CDM graduate student in Spring 2023.
Rotating graduate students:
You?
Postdocs
e-mail: cecile.courret@rochester.edu
Cécile earned her PhD in Evolution at the University Paris Saclay (France) in Catherine Montchamp-Moreau's lab. During her PhD she was interested in the evolution and genetic basis of the genetic conflict induced by sex-linked meiotic drive in Drosophila simulans. Cécile joined the Larracuente lab as a postdoc to study of the role of retroelements in centromere organization and function in Drosophila.
Publications:
Xiaolu Wei, Ph.D. ( Postdoctoral associate)
e-mail: xwei10@ur.rochester.edu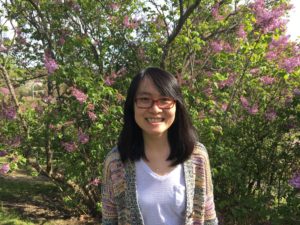 Xiaolu was a Biomedical Genetics student who recently graduated from that lab. She is now a postdoc  in the lab studying how satellite DNA is regulated in the Drosophila germline using functional genomics and cytogenetic approaches. She uses the selfish Segregation Distorter system to understand the consequences of misregulating satellite DNA in the male germline. Xiaolu was an Agnes M. Messersmith and George Messersmith fellow for 2020-2021.
Selected publications:
Wei,X., Eickbush,D.G., Speece,I., A.M. Larracuente. 2021. Heterochromatin-dependent transcription of satellite DNAs in the Drosophila melanogaster female germline. eLife 2021;10:e62375. doi: 10.7554/eLife.62375
Chen, T.*, Wei, X.*, Courret, C.*, Cui, M., Cheng, L., Wu, J., Ahmad, K., Larracuente, A.M., Rong, Y. 2022. The nanoCUT&RUN technique visualizes telomeric chromatin in Drosophila. BIORXIV 4/22/22. PLoS Genet 18(9): e1010351. https://doi.org/10.1371/journal.pgen.1010351
*co-first authors
Research associates and technicians

Danna Eickbush, Ph.D. (Research associate)

e-mail: danna.eickbush@rochester.edu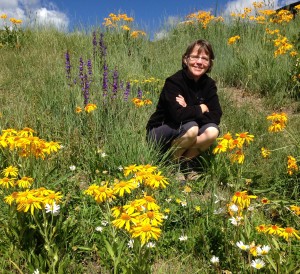 Danna Eickbush attended the University of Arizona where she was introduced to the wonders of molecular biology and immediately transferred to the newly formed Department of Cellular and Development Biology. She then joined the Ph.D. program in Cellular and Development Biology at Harvard University, characterizing the molecular structure and transcriptional patterns of the 71C-E region of Drosophila melanogaster while in the lab of Dr. Peter Cherbas. After moving to upstate New York, she did a postdoc with Dr. Jack Werren studying the selfish B-chromosome Paternal Sex Ratio (PSR) in the wasp Nasonia vitripennis. For the last 25 years, she has worked as a research associate with Dr. Tom Eickbush at the University of Rochester. The long tenure with her husband allowed Danna to study many aspects of the life cycle of the retrotransposable element R2, including its regulation and transcription. Danna works on the regulation of satellite DNA expression in Drosophila species.
Selected recent publications. Click here to see Danna's PubMed list.
Eickbush, T.H. and Eickbush, D.G. 2015. Integration, regulation, and long-term stability of R2 retrotransposons. In Mobile DNA III. ASMscience. Editor Nancy L. Craig (in Press).
Eickbush, D.G., Burke, W.D. and Eickbush, T.H. 2013. Evolution of the R2 retrotransposon ribozyme and its self-cleavage site. PLoS One 8: e66441.
Eickbush, D.G. and Eickbush, T.H. 2012. R2 and R2/R1 hybrid non-autonomous retrotransposons derived by internal deletions of full-length elements. Mobile DNA 3: 10.
Nick Fuda, Ph.D. (Research associate)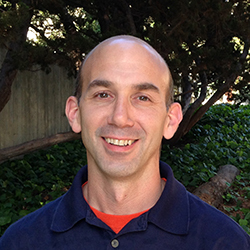 e-mail: nfuda@UR.Rochester.edu Nick Fuda  received his PhD from John Lis' lab at Cornell University in 2012. He investigated general mechanisms of RNA polymerase II transcription in Drosophila melanogaster with a particular interest in the mechanisms controlling promoter-proximal pausing. As a post-doc, he studied dosage compensation in Caenorhabditis elegans in Barbara Meyers' lab at University of California Berkeley, investigating how the dosage compensation machinery specifically localizes to the X chromosome and how RNA polymerase II transcription is being modulated to compensation X chromosome expression. Nick is now studying the molecular mechanisms of meiotic drive as a research associate in the lab.
Selected Publications:
Fuda NJ, Guertin MJ, Sharma S, Danko CG, Martins AL, Siepel A, Lis JT. GAGA factor maintains nucleosome-free regions and has a role in RNA polymerase II recruitment to promoters. PLoS Genet. 2015 Mar 27;11(3):e1005108. doi:10.1371/journal.pgen.1005108
Duarte FM, Fuda NJ, Mahat DB, Core LJ, Guertin MJ, Lis JT. Transcription factors GAF and HSF act at distinct regulatory steps to modulate stress-induced gene activation. Genes Dev. 2016 Aug 1;30(15):1731-46. doi: 10.1101/gad.284430.116
Nicholas J Fuda, Katjuša Brejc, William S Kruesi, Edward J Ralston, Rachel Bigley, Aram Shin, Miki Okada, Barbara J Meyer Combinatorial clustering of distinct DNA motifs directs synergistic binding of Caenorhabditis elegans dosage compensation complex to X chromosomes. Proc Natl Acad Sci USA 2022 Sep 13;119(37):e2211642119. doi: 10.1073/pnas.2211642119
Natasha Kruelski (Technician)
Natasha was a computational biology major (class of '23) who joined the lab as a technician agter graduation.  Natasha is studying why some chromosomes can escape Segregation Distorter and helping with a bioinformatics tool to analyze repeats.
Undergraduates
Julia Granato (undergraduate, Ecology and Evolutionary Biology)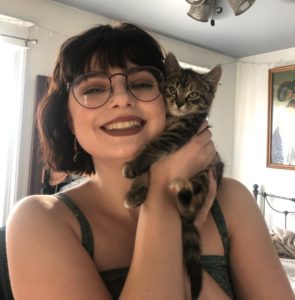 Julia is an EEB/Archaeology double major helping with Segregation Distorter projects. Julia works with our flies that have mutations in their satellite DNA that we made using CRISPR/Cas9.
Miraz Sadi (undergraduate, Biochemistry)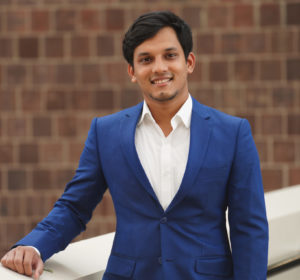 Miraz is working on centromere evolution in the Drosophila simulans clade. He is a recipient of a DeKiewiet Fellowship for undergraduate research.
Adya Mohapatra (undergraduate, Molecular Genetics)
Adya is mapping suppressors of Segregation Distorter in Drosophila melanogaster.
Taylor Franks (visiting undergraduate,  North Carolina Agricultural and Technical State University)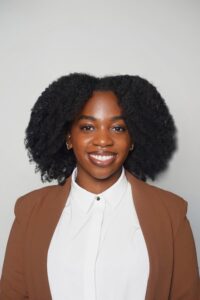 Taylor is visiting the lab in the summer of 2023 to study how the piRNA pathway regulates satellite DNAs in the Drosophila melanogaster germline.