2023 SMBE WORKSHOP ON EVOLUTIONARY AND GENOMIC CONSEQUENCES OF DRIVE
June 12 to June 17 2023 at the Grand Hotel & Kurhaus in Arolla, Switzerland.
Organizers:
Anna Lindholm Adjunct Professor, Department of Evolutionary Biology and Environmental Studies, University of Zurich.
Amanda Larracuente Associate Professor, Department of Biology, University of Rochester.
Rob Unckless Associate Professor, Molecular Biosciences, University of Kansas.
Daven Presgraves University Dean's Professor of Arts, Sciences & Engineering, Department of Biology, University of Rochester
Workshop rationale
Mendel's law of equal segregation is universal among eukaryotes and foundational to the population genetics of evolution yet cheaters can arise that gain transmission advantage to progeny.
These so-called meiotic drive elements can act in females— by biasing access to the egg— and in males & ascomycete fungi— by disrupting gametes & spores that carry the alternative allele.  During the past two decades,  two findings have prompted increased interest and appreciation of meiotic drive. First, meiotic drive is ubiquitous— cases are now known from plants, fungi, insects, birds, and mammals. Second, meiotic drive can have significant consequences ranging from the molecular biology of meiosis to the genetic engineering of natural populations.
Workshop goals
The goal of this workshop is to gather current and future leaders in the meiotic drive field to synthesize insights from recent evolutionary and functional genomics studies and to develop future research priorities. New insights from well-established and newly-discovered meiotic drive systems from a wide range of taxa highlight the diversity of mechanisms, the emerging common themes, and the far-reaching effects drive has on shaping genome evolution. At the same time, the wealth of data from groups like Drosophila allow for comparative approaches. These advances have required interdisciplinary approaches from molecular genetics, evolutionary genomics, computational biology, ecology, and mathematical modeling.
We aim to:
(1) Exchange ideas on the current state of the genomics of drive and new insights into evolutionary dynamics and molecular mechanisms of drive systems in natural populations. The discussion will include diverse perspectives from participants in different fields (e.g., molecular biology, ecology, evolution, mathematical modeling, applications) and career stages.
(2) Write a collaborative critical review/perspective piece synthesizing insights across systems and mapping out future prospects in the field. Our two previous meetings each produced well cited reviews (Lindholm et al. 2016; Price et al. 2020).
(3) Map future research goals for the research community to understand the impact of meiotic drive systems on genome and species evolution.
(4) Link new genomic insights to relevant parameters for synthetic drive systems: molecular mechanisms, mutation & genetic variation, population structure, population genetics models of drive/suppression dynamics, and factors mediating the evolution of suppression/resistance.
Location
This workshop will be held at the Grand Hotel & Kurhaus, in Arolla, Valais, Switzerland (https://www.grandhotelkurhaus.com/). This is an outstanding venue to stimulate discussion and facilitate collaborative writing sessions.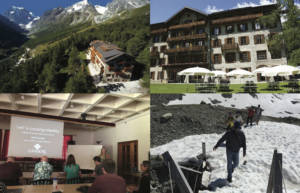 Format
The workshop includes short research update talks from all participants with ample time for discussion after each talk; whole-group brainstorming sessions; focus-group discussions on specific subtopics; synthesis discussions and collaborative writing.
Participants
Due to space restrictions and the focus on collaborative writing, this workshop is for approximately 25 participants. The participants will represent a diversity of systems, participant geographic locations, and career stages.
Support
We have received generous funding to run this workshop as a SMBE satellite meeting and other funding sources are pending. This support includes travel awards for four trainees that contribute our goal to great a meeting with diverse perspectives, model systems, demographics, and geography. If you are interested in attending, please submit your application through the following form before 3/15/23: https://forms.gle/xxcoMkjDWtZrK2YD6.
E-mail the organizers with questions: unckless@ku.edu, alarracu@bio.rochester.edu, anna.lindholm@ieu.uzh.ch, daven.presgraves@rochester.edu
Past Arolla meiotic drive workshop reviews:
Lindholm AK, Dyer KA, Firman RC, Fishman L, Forstmeier W, Holman L, Johannesson H, Knief U, Kokko H, Larracuente AM, et al. 2016. The ecology and evolutionary dynamics of meiotic drive. Trends Ecol. Evol. 31:315–326.
Price TAR, Windbichler N, Unckless RL, Sutter A, Runge J-N, Ross PA, Pomiankowski A, Nuckolls NL, Montchamp- Moreau C, Mideo N, et al. 2020. Resistance to natural and synthetic gene drive systems. J. Evol. Biol. 33:1345–1360.