As part o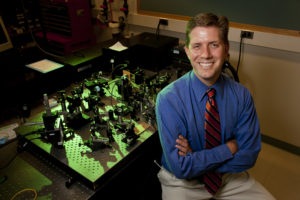 f the SPIE traveling lecturers program, we are honored to host a talk this coming Friday from Prof. Steven Boppart of the Beckman Institute for Advanced Science and Technology at the University of Illinois at Urbana-Champaign. Hope to see you there!
When: Friday, November 11, 3 PM
Where: Georgen 101
Title: Translational Biophotonics for Imaging in Medicine and Surgery
Abstract: There is an essential need for improving and translating point-of-care screening and imaging technologies, not only in primary care medicine and for our front-line health care providers, but also in surgical applications where real-time feedback can reduce high re-operation rates, and in digital pathology to effectively shift the microscopic examination of tissue from post-operative analysis in the pathology lab to intra-operative assessment during procedures. Advances in optical imaging technology have made it possible to visualize and quantify tissue microstructure in new ways, and do so in vivo and in real-time. Optical coherence tomography performs optical ranging in tissue by collecting depth-resolved reflections of light in a manner analogous to ultrasound imaging, except with spatial resolutions on the order of 5-10 microns. Nonlinear optical microscopy techniques can provide even higher resolution, label-free visualization of structural, functional, and molecular components, as well as reveal new biomarkers of disease. These techniques can therefore perform label-free "optical biopsies" of tissue with unique contrast mechanisms. As these biophotonics imaging technologies mature, are translated for clinical applications, and commercialized for broader dissemination and use, consideration must also be directed toward investigating the adoption and integration of these new technologies into standard-of-care practices, patient and physician workflow, referral guidelines, disease management, and overall patient outcome assessments.
Save