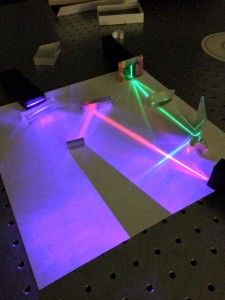 Check out this outreach event hosted by the OSA Student Chapter! Contact Raymond Lopez-Rios for more information.
The UR OSA student chapter is planning to have an outreach event on Thursday Dec 3 from 3 pm to 8 pm in Wilson Commons' Hirst Lounge, and we are in need of people to set-up, explain, and pack up optics demonstrations!
The main goal of this event is to close off the International Year of Light and bring more optics awareness to the entire undergraduate student body. This will also help us to recruit more members for next semester for both SPIE and OSA.
Some of the demos we will have include the IR camera, transmission holography, Schlieren imaging, Pepper's ghost illusion, etc.
There is a sign up sheet for times here, as well as a link to the Google drive file with more information. We will really appreciate any help we can get!