Abbie Tippie
The Institute of Optics
Gigapixel Synthetic Aperture Digital Holography
Tuesday, August 9
12:00- 1:00 PM
Goergen 101
In digital holographic synthetic aperture imaging, individual frames from a CCD detector are mosaicked together to form larger array sizes, thereby increasing the effective size of the hologram plane.  The larger aperture allows for an increased numerical aperture and higher frequencies to be detected, thus decreasing the finest resolvable feature size while increasing the space-bandwidth product.
After considering proper propagation and sampling requirements, a high-resolution image was reconstructed using sub-pixel registration algorithms to mosaic together hundreds of arrays of data in combination with phase-error correction algorithms to correct for system instabilities.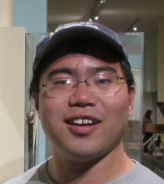 Ran Xin
Physics & Astronomy
Directly Chirped Laser Source for Chirped-Pulse Amplification Systems
Tuesday, August 9
12:00- 1:00 PM
Goergen 101
Chirped-pulse–amplification (CPA) is a widely used technique to produce ultra-short optical pulses with high pulse energy. It stretches a pulse before amplification and recompresses it after energy gain to avoid detrimental nonlinear effects in the amplifier, such as self-focusing.  The conventional CPA approach stretches ultra-short optical pulses from a mode-locked laser with a grating-pulse stretcher to produce chirped seed pulses. This approach offers limited flexibility in the control of dispersion without system re-alignment.  The directly chirped laser source (DCLS) produces linearly chirped optical pulses through direct phase modulation in an all-fiber architecture. With a programmable temporal phase profile, DCLS offers improved flexibility and control. It also offers high seed pulse energy and diffraction limited beam performance.