Beyond the aesthetic appeal of the new and improved Danforth Dining Center at the U of R are a multitude of creative sustainability initiatives. Here are some things you may not have known about the renovation…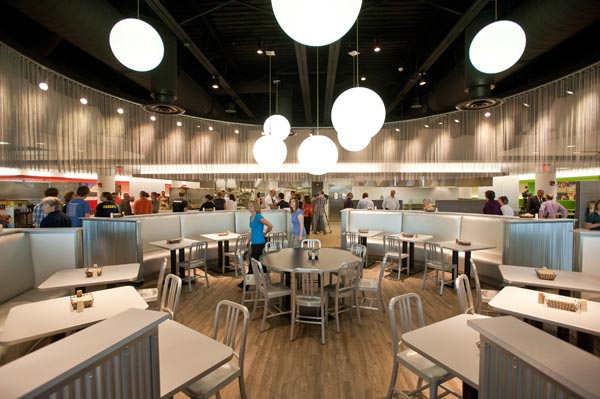 Take a seat and you will find that you are sitting on a chair made out of 111 recycled Coke bottles. When these Emeco chairs first entered the market, they diverted 3.5 million bottles out of landfills!
During the demolition phase of the Danforth renovation, 75% of the total waste material was diverted back to the manufacturing process. This prevented 100.95 tons out of 133.84 from being disposed in landfills and incineration facilities.
The design of Danforth utilizes natural light in a way that reduces the light energy consumption. Meanwhile, the spaces that are lit use LED lighting and day lighting controls.
UR Dining has installed a pulper that turns napkins and food waste into compost while conserving water and preventing excess trash from entering the waste-stream.
These are only a few of the main sustainable solutions that were woven into the renovation, greatly reducing the environmental and energy impacts of the dining facility.